I need help using stauff.com - Who can I contact?
If you have any questions or problems, please do not hesitate to contact STAUFF, e.g. via contact form or live chat.
Who will answer my questions in the live chat?
Questions will be answered by a team of qualified and experienced chat agents from the following departments at STAUFF Germany
Customer Service
New Customer Care
Inside Sales
Product Specialists
If a question can not be answered directly by the chat agent, the request will of course be recorded and forwarded to the appropriate department. The answer will then be given as soon as possible, e.g. by telephone or e-mail.
At what times the STAUFF live chat is available for me and what happens when it is offline?
Our live chat is available for you at the following times:
Monday - Thursday from 08:00 - 16:00 (CET)
Friday from 08:00 - 15:00 (CET)
Of course, it can also happen that you as a customer have a question outside of these times, or that no chat agent is available during the specified times. In this case you can still click on the live chat button and a form will be displayed which you can fill out with your problem. We will make sure that you will receive an answer as soon as possible.
I am new here and have some questions about the process.
In ourshop guide you will find a lot of information about the order process as well as further details and options.
Where do the prices on the platform come from?
The list prices displayed on the platform correspond to our latest gross price list.
How can I see my individual pricing?
Prerequisite: To view your individual conditions, you need online access linked to your STAUFF customer number. In the shop guides you can find more information about the funcionality and where you can see your STAUFF customer number.
If you are an existing customer, you have two options: You contact your STAUFF partners and we will arrange everything for you, or you register yourself and we will connect you with your customer number.
If you are a new customer and are interested in individual conditions, please contact us e.g. via contact form or live chat.
If you have online access linked to your customer number, you must first log in. Once you have done so, there are two ways to view your individual prices:
You can use the price and availability check on the product detail page. You can search for article numbers or product names in the search field to get or you can navigate yourself through the product hierarchie over the main menu. You reach the product detail page by clicking on a specific product. After you clicked on "check price and availability" your individual pricing appears below the gross list price. 
You place all products you want to purchase in your cart and then visit your cart (click on the shopping cart symbol on the upper right corner). The prices you see in the cart are your individual prices for the products.
What are the benefits of a registration in the shop?
A registration gives you the possibility to log in quickly and easily to your customer account, where you can find an overview of all your orders. You will find all your company's orders there, even those that have not been processed via the online shop. In addition, you can buy even more easily and uncomplicatedly by quick order. You also have the option to create a project listwhere you can remember products and use the enquiry list through which you can send direct enquiries and get access to exclusive content.
How can I check if my account is linked to my customer number?
Immediately after logging in to the online shop, your account overview is displayed. You will then see your personal customer number in your profile. You can find more information on this in the shop guide for existing customers.
What is a quick order and how does it work?
With a quick order, an EXCEL or CSV file with material number, quantity and desired delivery date is uploaded, which is then automatically converted into items for an order on our site. Products that are not found can then be requested directly from us.
You will also find an EXCEL and CSV template in our online shop.
When I place a quick order, individual prices are not displayed in my shopping cart.
To have your prices displayed, make sure you have logged in and not just saved as favourite before uploading the file.
However, in general it is also possible to log in later:
By clicking "checkout" you will be taken to the login page.
Log in with your account data.
You will be redirected to the shopping cart, where the customer-specific prices from SAP will be requested and displayed.
Complete all further steps to finalise the order.
Where can I view my pending orders?
You can find an overview of all your personal orders in the STAUFF Online Shop at "Shop-Orders" in your account. Existing customers also have the option of calling up the orders of the entire company under "All orders", regardless of who placed the order.
What does "preferred delivery date" mean?
The preferred delivery date is the date on which you would like to receive the goods. If you do not specify a requested delivery date, we will deliver the goods as soon as possible, depending on your chosen shipping method.
Once we have received your order, we will check whether we can provide the requested delivery date. Once the order is confirmed by us, you will receive an order confirmation with the final delivery date.
I would like to add another default shipping address. What do I have to do?
No problem. Simply let us know your address request and we will add the data to your account.
You can simply contact our chat agents in the live chat or use the contact form.
How can I pay by invoice?
Only existing customers linked to their customer number have this option.
My company uses the platform. We need another access for an employee. What do I have to do?
We can create a new user account for you at any time. Please use the contact form so that we directly get all the data to create the online access.
I still have a question regarding my order.
A lot of information about your order, such as the delivery status, can easily be requested from us in the live chat. For example, enter "Delivery status" and the order number.
🚛 Set up a default ship-to-party
Companys that are divided into several plants are now able to preset a default ship-to-party for each user account separately.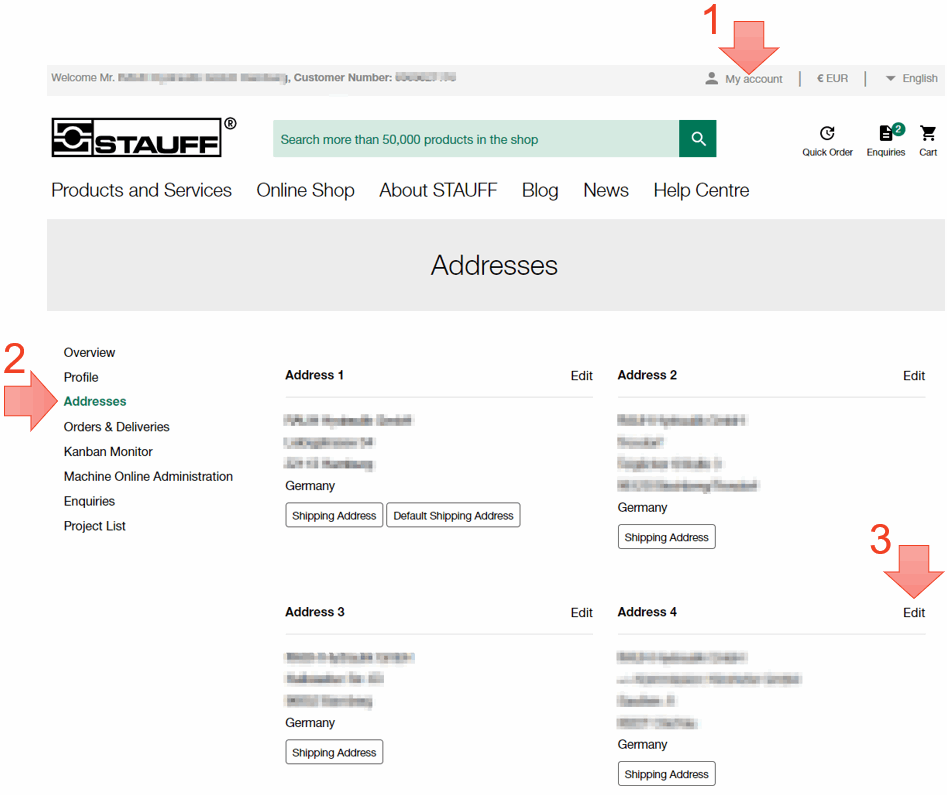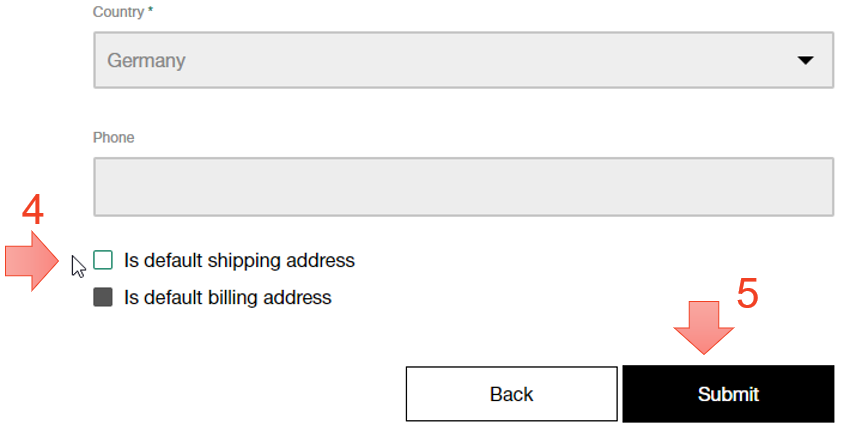 Your question is not answered? Is something still not clear for you? We will be happy to help you. Simply use the contact form or the live chat.